Proud, proud, proud!!
This morning Ann got a prize in the post for coming 1st in the Fingal 10km in her age group. Yip, number 1. Well done Ann. Could not be more proud!
Just had a look at the website statistics this morning. Over 400 people came to the site on Sunday alone! People are seeing the t-shirts on Race days then visiting the website to see what this great challenge is all about. It's to supoprt a great cause in memory of a great man… and this visitor peak is exactly what RunForPaddy.com is all about. Letting people know just how much Paddy means to us. Thanks to everyone for their support so far.
So, race 2 of the challenge is done and dusted. Great day in Swords for the Fingal 10km, albeit a bit warmer and more humid then we wanted. A few more tough hills in the mid sections then we'd hoped for too… but enough excuses and complaints! Really enjoyed the morning. Had superb support with loads of friends and family there running and some there to cheer us on too. Have to say well done to Stephen for an insane time of 45 minutes, to Aiden who did 48 minutes and Niall who did 48 minutes also…. impressive stuff. Ray did it in 55, even though he told me he missed some training … and there was me  happy enough with my time of 67 minutes, as I sit here with an ice pack on my knee! Regina and Arlene powered home and as you can see from the photos they had much more to give….looking good for the next race of 16km ladies! Regina took a whole 20 minutes off her 2012 mini-marathon 10km time…. proud! And Ann and Helena looked in complete comfort as they crossed the 10km finish line… even time for a few posing photos en-route and getting their names called out over the PA. Great buzz!
A massive thanks to Eoin and Anne-Claire who had the hardest task of the day in minding our 3 kids, so appreciate that guys. I think Isabelle wants to move in with you two! And great to see Declan, Karen and Lisa making themselves heard too! Tony and Peter, cheers for coming in to support us. Thanks to Steen for being there and sorting the photos for me. Mary, we missed you… hope the injury is on the mend!
Here are some pics of the madness.. some of these are from Peter Mooney's Photo Stream on Flickr

The PR is working. Did you know that in the last week RunForPaddy.com had 1,300 visitors from 23 countries? And from our statistics I can tell that people spent an average of 6 minutes on the website. This shows a great level of engagement with the people who have found the site, all about the RunForPaddy challenge.
Ireland (71% of visits)
United Kingdom
United States
Canada
Germany
United Arab Emirates
Australia
India
Spain
Norway
France
Colombia
New Zealand
Portugal
Cambodia
Luxembourg
Malta
Malaysia
Pakistan
Senegal
Thailand
South Africa
This morning we entered the "Top 50″ list of fund-raisers on MyCharity.ie This is based on the amount raised…..we are very close to €4,000 now.
You can see us currently at number 47 here: www.mycharity.ie/info_topFundraisers.php
Sick in bed, but feeling bit better today so thought I'd hit a few celebs on Twitter for a mention of RunForPaddy to their followers. Hilary Devey from Dragons Den on the BBC re-tweeted my message… meaning the RunForPaddy tshirt icon and twitter account will be shown to her 50 thousand followers!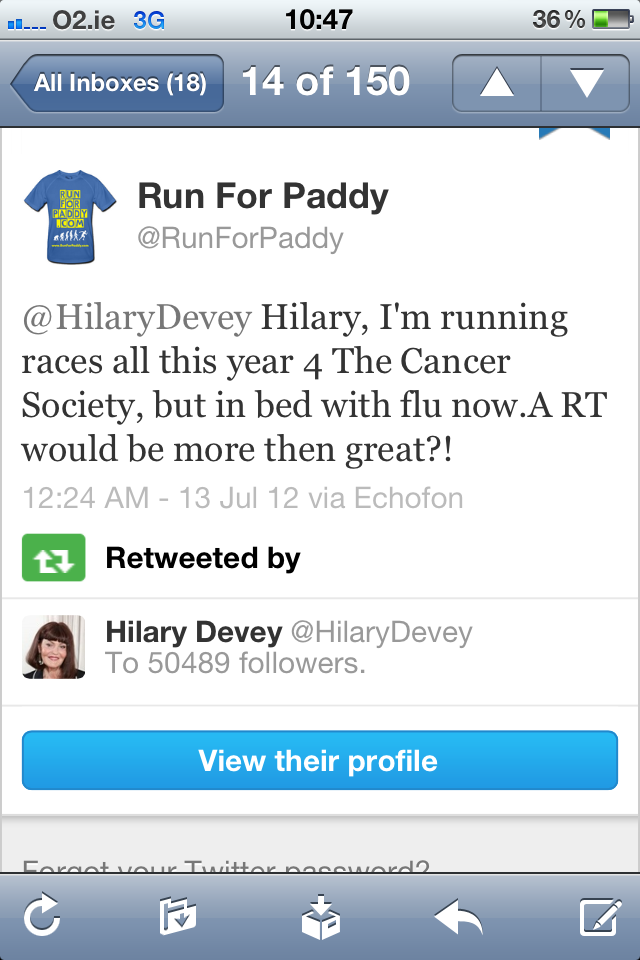 Can you believe it!? They contacted me about a week ago to get me to document my motivation and progress with the challenge. So I did, and they published it in the Irish Times online running piece today. They have 1'000s of readers and facebook fans so this is exactly what Run For Paddy is all about.
Read the full article by clicking here or clicking on the image below
I was really disappointed with my time last weekend on the 1st race of the challenge… so I managed to get a late late race number for the Clontarf 5 mile this morning… only got it at the last minute. Was on my own and more focused and took 10 minutes off last weeks time to come in the 5 mile/8km in 46 minutes. Really enjoyed the race, it was very well organised and had a great atmosphere. One for the calendar for next year.
By the way, anyone to ran the race… There are some great photo galleries at this link
Thanks for a very generous donation from Barry, a good friend of ours, we've just passed the three grand mark! Woo hoo! €3,015 euro so far for the Irish Cancer Society. Thank you so much to everyone so far.