The Big Idea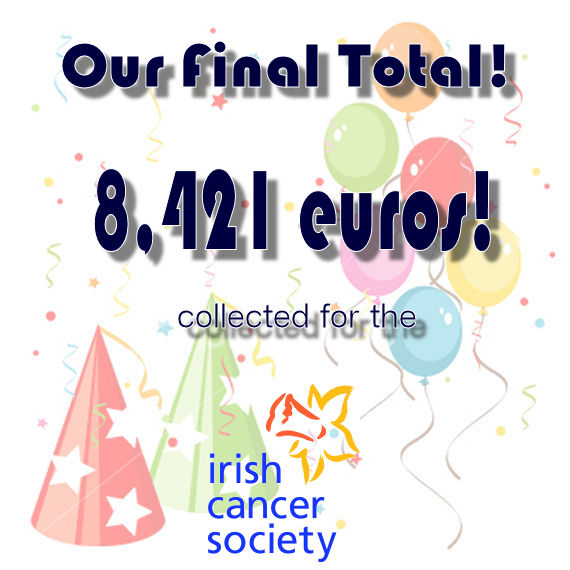 My final total is in. €8,421 raised for the Irish Cancer Society. Thank you so so much to every single person who donated to The Irish Cancer Society through RunForPaddy.com. Thanks to everyone who supported me along the sidelines and the roads during my races. Thanks to everyone who ran some races with me. Thanks to everyone who did their own fundraising events and campaigns for RunForPaddy.com Thanks to Regina for listening to my moaning of aches and pains and for being the greatest person that's ever lived. Thanks to Ann for supporting me from the moment I ran the idea past her. And thanks to the man behind it all, my inspiration for every mile and my true friend, Paddy. We love you man.
Really it's all very simple…. in theory! I plan to run the 6 races listed, including the Dublin City Marathon, and in doing so raise money for the Irish Cancer Society.
5 mile (8km) Race in June
10km Race in July
10 mile Race in August
Half Marathon in September
20 mile (32km) Athlone Race in October
Full Marathon in October
I've never done anything like this before. I'm not the fittest of men (yet). I only started jogging before Christmas 2011 and the most "serious" jogging I have ever done is two 5km races in the Phoenix Park recently.
I am doing all this driven on by one thing; My desire to remember and honour my father-in-law, Paddy, in the positive way that he should be remembered. These 6 races, and the close to 700km of training I will need to do, are all in the memory of Paddy Supple. You can read about Paddy, and why he has had such an effect on me and those who knew him here.
Want To Run A Race With Me – And Help The Cause Too?
Some people have said that they might run (or walk) the 1st race with me and maybe even the second one too… some even said they'd do more then 2 races, but that was on a night out! You can register for the races by clicking here. Let me know if you sign up and we'll meet up on the race day.
To register for the Dublin City Marathon itself you can click here. I have sponsor cards available, you can can get people to sponsor on-line using this website. Any sponsorship that you raise will be mentioned on this site and our Facebook and Twitter pages. Thanks!
33 Responses to The Big Idea